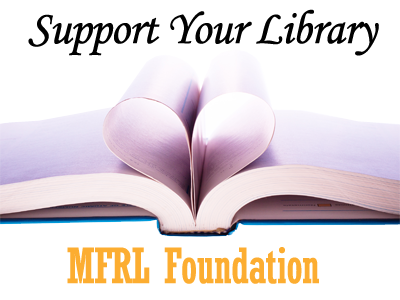 Love Your Library!
Visit our Foundation Page to see how you can support your library. All donations are tax deductible.

Join us for new release movies and old favorites at all of our Library Branches. Show times and dates are listed on our Movie page.
Holiday Schedule
The library will be closed Friday, July 3rd and Saturday, July 4th in observance of Independence Day. We're also closed on Sunday, July 5th, as we are closed on Sundays during the summer months.
The Library is Hiring
July 2: New Position Posted
View our Employment page for more information.
Library News eMails
Want your inbox to tell you what's going on at your library? Sign up for one (or more!) of our branch-specific Announcement Lists.
Library of VA Literary Awards People's Choice
Vote for the 12th Annual People's Choice Awards! Haven't read them all yet? Check them out:
Fiction: The Good, The Bad, and the Emus, Gray Mountain, The Hunger Artist, How to Tell Toledo from the Night Sky, Small Blessings
Non-Fiction: Beyond the First Draft, Give War and Peace a Chance, Factory Man, Embattled Rebel, Overwhelmed
New Arrivals!
Check out the New Books and New Movies recently added to the library collection.
Bill Payments
Library Bills can be paid online. Visit our Bill Payment page for more information.
Reserve a PC online!
Go to our Reserve a Computer page to make your reservation.
Pre-Due and Holds Notifications
Visit our Notification page to set TXT / Email preferences.
Borrow an iPad Mini
MFRL now circulates an iPad Mini for two weeks at a time. Library Apps are pre-installed so you can try checking out Movies, Music, eBooks, AudioBooks and Magazines using your online library.