Stay informed and entertained during the emergency
Coronavirus COVID-19 Information Updated 12/22
Our COVID-19 information page states the Library's response to the Coronavirus disease, details changes to circulation and operations, and lists sources of factual information regarding the pandemic.
Curbside Pickup
For persons needing to self-isolate, we continue to offer Curbside Pickup of holds, prints, and Library Picks For You service.
Covid-Era Resources
The Montgomery-Floyd Regional Library has put together a collection of resources covering everything from digital checkouts, non-library services, wifi-access, and more to help you stay informed and entertained.
Next 8 Events at the Library
Holiday Closing


The Montgomery-Floyd Regional Library be closed Monday, January 18 for Martin Luther King, Jr., Day.

MFRL Board of Trustees Meeting
The MFRL Board of Trustees meeting has been postponed to 7pm on Wednesday, January 27, 2021. In response to the COVID-19 emergency, this meeting will be held virtually.
Members of the public wishing to address the board should email Ruth Bellman, Board Secretary, before 5pm on January 27. Public address is limited to a maximum of five minutes per person concerning only library issues.
The Board Meeting will be livestreamed on Montgomery-Floyd Regional Library's Youtube channel.
Library News eMails
Want your inbox to tell you what's going on at your library? Sign up for one (or more!) of our branch-specific Announcement Lists.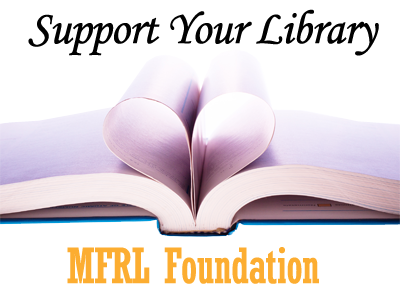 Love Your Library!
Visit our Foundation Page to see how you can support your library.
Notification Settings
You can now choose between Email, Phone, and TXT notifications for: Due Date Reminders, Overdue Notices, and Available Hold Notices. Visit our Notification page to set your preferences.
Bill Payments
Library Bills can be paid online. Visit our Bill Payment page for more information.
New Arrivals!
Check out the New Books and New Movies recently added to the library collection.