Director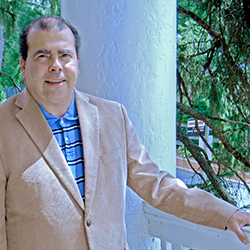 Karim Khan
Director of the Montgomery-Floyd Regional Library
Welcome to Montgomery-Floyd Regional Library! Staff at our four locations are looking forward to helping you have a great summer, with engaging programming for children and adults, free access to the creative works of writers, filmmakers and musicians, and help when you need it with finding answers, and with navigating the devices and resources that enhance your lives. For libraries, summer is always "showtime." And "It's Showtime!" is the theme for the Summer Reading this year.
Studies show that kids who miss out on reading over the summer fall back on their reading skills. But the library has the answer with our Summer Reading program. We have books for every age and every taste, and a challenge with prizes that will make reading a fun, goal-oriented activity this summer. We will also feature many engaging, educational, and perhaps just-plain-loud programs that kids will enjoy.
If you're an adult, we have a reading challenge and many programs for you also. From return visits by author Ron Peterson (Under the Trestle) to 30,000 newly-available downloadable audiobook titles in the new RBDigital Unlimited resource, you will find a wide variety of books, DVD's, audio and programming to intrigue, inspire and delight you.
We welcome your comments, suggestions and ideas. If I can be of assistance to you, please call me at 540-382-6969 ext. 216 or email me at kkhan@mfrl.org.