Director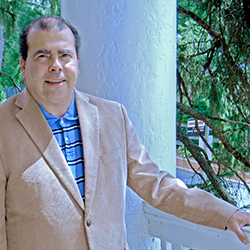 Karim Khan
Director of the Montgomery-Floyd Regional Library
Welcome to Montgomery-Floyd Regional Library! July 1 marks the beginning of a new budget year, and Montgomery-Floyd Regional Library is grateful to our government funders and the generous support of the community as we begin another year of managing resources effectively to provide the people of Montgomery and Floyd counties with information, inspiration, connections, and empowerment. Summer also marks the turnover of some of our electronic resource contracts. A summary of changes is below:
MFRL is excited to add the RBDigital Unlimited collection to our downloadable audiobooks. RBDigital Unlimited provides access to over 31,000 audiobook titles for you to checkout, and these titles are always available – you never need to get on a holds list to access RBDigital Unlimited titles. With over thirty thousand titles from leading publishers, you'll find bestselling authors like Jan Karon, Stephen King, Linda Lael Miller, Diana Gabaldon, and thousands more. Along with the Unlimited titles, you will also find thousands of one-copy one-use titles, as well as eBooks and eMagazines, all in the RBDigital app. Library staff can help you get started on your mobile phone, tablet, mp3 player, or on your computer.
If you'd rather read books than listen, you may wish to explore the library's EBSCOhost Ebook collection. This state-funded resource isn't as user friendly as RBDigital, Overdrive, or Hoopla, but it holds almost 100,000 ebook titles. There are many children's titles, but the real strength of EBSCOhost Ebooks is in material that is more academic than public libraries can usually afford. With over 18,000 history titles, nearly 7,500 business titles, and over 5,000 religion titles, this resource is too good to pass up – and staff can help you make the eBooks work on nearly any device.
Unfortunately the subscription to Adult Audiobooks on Hoopla ends as of July 4. Although this is a popular collection, Hoopla's pay-per-use model presents a budgeting challenge. In Fiscal Year 2019 so far, we have spent 13% of our budget on downloadable audio from Hoopla; but it represents only 4% of our overall circulation. This kind of gap is unsustainable. We are maintaining Hoopla access to Children's Audiobooks as well as other formats – downloadable ebooks, comics, video, and music -- and encourage you to explore these resources.
On behalf of the staff of Montgomery-Floyd Regional Library, have a great summer!
We welcome your comments, suggestions and ideas. If I can be of assistance to you, please call me at 540-382-6969 ext. 216 or email me at kkhan@mfrl.org.