Director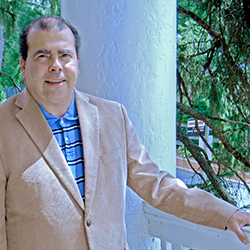 Karim Khan
Director of the Montgomery-Floyd Regional Library
Change to Hoopla Checkout Limits
As of September 2018, the monthly checkout limit for Hoopla for Montgomery-Floyd Regional Library cardholders will reduce from 8 to 5 checkouts per month.
Usage of Hoopla has grown sharply in the past year, and to most effectively manage our limited budget for downloadable resources, we are taking this step to control costs. We continue to work with our vendors and funding sources to develop and implement sustainable access to material for you.
If you enjoy eBooks and eAudio from the library, you may wish to explore our other eBook resources.
Over 10,000 e-books and Audiobook titles for all ages. The Libby app is the newest, most-customer friendly way to access Overdrive content. Note that Overdrive is a partner of Amazon, and features e-book titles in Kindle and in easy to use Overdrive and Libby reader formats.
RBDigital is the electronic service for Recorded Books, Inc., so you know the selection of over 6000 audiobooks is world-class. In addition RBDigital has a selection of eBooks and downloadable magazines.
For a slightly more old-fashioned e-book experience, you may wish to explore EBSCO Ebooks and Freading, which are supplied to us by the Library of Virginia. These resources use the EPUB format; so the first time you use an e-book from them, you may need to create a free Adobe account, and authorize your device to that Adobe account. After that, they are pretty simple to use. They feature thousands of eBook titles, and have a lot of children's books in their selection.
EBSCOhost's variety of educational and reference books can be viewed online and cover Architecture to Social Studies.
Download eBooks to your Computer, Tablet or Smartphone.
We apologize for any inconvenience and look forward to continuing to serve our patrons as the formats of library materials evolve.
We welcome your comments, suggestions and ideas. If I can be of assistance to you, please call me at 540-382-6969 ext. 216 or email me at kkhan@mfrl.org.