Mobile Library
Montgomery-Floyd Regional Library (MFRL) Mobile Library provides a platform to bring our library services out to the community.
For the 2022 Fall Season, it will visit (locations listed below) Montgomery and Floyd Counties, on a three-week cycle.
At each stop MFRL will provide books and other material for check out; provide Wi-Fi access; provide printing from patrons' mobile devices; and assist visitors with their questions. We will demonstrate how to access the eBook and eAudio collections, and help people request items that are on the branch shelves. The Mobile library only accepts Credit Cards (no cash payments).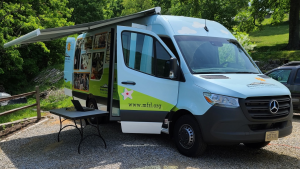 2022 Fall Season
FLOYD
Plenty!
THURSDAYS, 4:00 PM-5:00 PM
October 6
October 27
November 17
December 8
BLACKSBURG
Hollins Estates
WEDNESDAYS, 3:30 PM-4:30 PM
October 12
November 2
November 30
CHRISTIANSBURG
Christiansburg Bluff
THURSDAYS, 3:30 PM-4:30 PM
October 13
November 3
December 1
ELLISTON
Mountain Creek Community
FRIDAYS, 3:30 PM-4:30 PM
October 14
November 4
December 2
CHRISTIANSBURG
Linden Green Apartments
TUESDAYS, 3:30 PM-4:30 PM
October 18
November 8
November 29