Director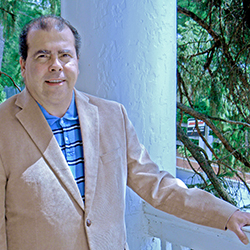 Karim Khan
Director of the Montgomery-Floyd Regional Library
Welcome to Montgomery-Floyd Regional Library. The Library is excited to bring you a fine-free library experience beginning on July 1, 2022. From now on, there are no daily overdue fines for late books, DVDs, and other materials. All old fine balances have been waived, including any collection agency processing fees that may have been on your card record. By going fine free, we are responding to changes in how folks use the library with a new approach that keeps you, the patron, at the center of what we do.
The Library Board of Trustees initiated a fine-free library model for children's material in 2018. Since then, we have seen more kids' books being checked out, and more kids' cards are being used. This is consistent with research from across the nation. Libraries have found that charging fines is just not a very effective way of getting material back on time; what fines are most effective at is chasing people away -- people who returned items late, but face issues that make paying fines a challenge, or people who are so cautious about fines that they don't use the library at all.
So your library is now fine free! This doesn't mean you don't have to return your items. You will receive notices that you have overdue material. Notices mostly arrive by email, though some have chosen text or phone as their notification method.
If you haven't returned your item by the due date, you will have three weeks after the due date before the item is declared lost. In most cases, this is when your card is blocked from checking out. But all you will need to do then is bring the overdue item back. That will remove the lost item replacement fee from your card, and you'll be ready to find something else great to check out.
Of course, if an item is permanently lost, never returned, or damaged, there will still be a replacement fee charged.
Montgomery-Floyd Regional Library strives to inform, inspire, empower and connect the people we serve. We hope this change will encourage everyone in the community to visit a library branch and explore the variety of books, movies, shows, music, and other resources that we are proud to circulate.
Every day, the library staff is motivated by you. It is our honor to help you access the stories, tools, and connections that will help us fulfill our vision statement – "People building skills and knowledge that enhance their lives, in a region prepared to prosper." I hope you can take advantage of the opportunities to learn, grow and relax that reading provides – and enjoy our DVD's, audiobooks, cd's and award-winning programming as well.
We welcome your comments, suggestions and ideas. If I can be of assistance to you, please call me at 540-382-6969 ext. 216 or email me at kkhan@mfrl.org.
Sources for COVID-19 statistics:
Virginia Department of Health Virginia Coronavirus Dashboard: COVID-19 in Virginia.
Richmond, VA: Virginia Department of Health, 2021.
Centers for Disease Control COVID Data Tracker: COVID-19 Integrated County View.
Atlanta, GA: U.S. Centers for Disease Control, 2021.