Director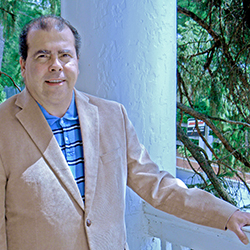 Karim Khan
Director of the Montgomery-Floyd Regional Library
Welcome to Montgomery-Floyd Regional Library. With Virginia Executive Order #79 now in effect, we are excited to greet each of you in our buildings, community rooms, computer areas and grounds. Face coverings are no longer required for fully vaccinated persons in Virginia, although you may notice that some of your fellow library patrons will be wearing masks, as will some staff. It's each person's decision now. We will continue to offer Curbside Pickup, wireless printing through Princh, and Library Picks For You service. Most of our services are resources are back 100%, but since many younger library patrons are not yet eligible for vaccinations, we are not yet quite back to our full children's program schedule. We hope to resume full children's programming in September, depending on progress with the COVID emergency. For the latest on the library system's efforts to meet the challenge of COVID-19, please visit our COVID Info Page.
If you haven't been in the library recently, we hope you visit soon. We have been working to improve our facilities, resources, and skills, and are looking forward to sharing with you new books, audiovisual items, electronic resources and other services. Library staff can assist you with finding library material, and with using our public computers and WiFi. We will show you how to use our Princh printing service to print from your own device to the library's printers wirelessly. We will share with you the new Libby and Overdrive Magazines collection, and demonstrate how to get the apps that let you enjoy our ebooks, eaudio, and emagazines anywhere you take your mobile device.
Every day, the library staff is motivated by you. It is our honor to help you access the stories, tools, and connections that will help us fulfill our vision statement – "People building skills and knowledge that enhance their lives, in a region prepared to prosper." Even though COVID-19 continues to impact our community, the summer of 2021 is definitely looking up. Montgomery-Floyd Regional Library is here for you and working to meet your needs in innovative ways.
We welcome your comments, suggestions and ideas. If I can be of assistance to you, please call me at 540-382-6969 ext. 216 or email me at kkhan@mfrl.org.
Sources for COVID-19 statistics:
Harvard Global Health Institute Key Metrics for COVID Supression.
Cambridge, MA: Harvard Global Health Institute, 2020.
Johns Hopkins University of Medicine Coronavirus Research Center John Hopkins U.S. Map.
Baltimore, MD: Johns Hopkins University of Medicine, 2020.
Virginia Department of Health Virginia Coronavirus Dashboard: COVID-19 in Virginia.
Richmond, VA: Virginia Department of Health, 2020.