Director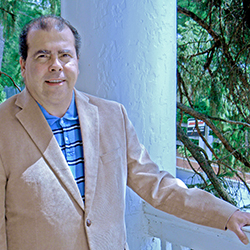 Karim Khan
Director of the Montgomery-Floyd Regional Library
Thank you for visiting the website of Montgomery-Floyd Regional Library. On behalf of each person on the MFRL team, allow me to extend an invitation to you – Please plan a visit to the library soon! Our four libraries – Blacksburg Library, Christiansburg Library, Jessie Peterman Memorial Library in Floyd, and Meadowbrook Public Library in Shawsville, are planning a great autumn season with resources, services, and programming to inform, inspire, empower and connect the people we serve. The branches will resume Sunday hours from 1-5 starting on Sunday September 8.
As summer closes, we are happy to report that this year's "It's Showtime!" Summer Reading Program for children and teens grew over last summer in both signups and completion. We know that the kids who participated had a great time, and also kept up their reading skills for this fall's back-to-school.
At Jessie Peterman Memorial Library in Floyd, we have recently expanded our partnership with Plenty!, a non-profit food bank that grows and shares food with those in need. We have joined their "Portable Produce" program by adding donated books to the menu of the food they deliver to homebound and other food-insecure persons in Floyd. Plenty!'s driver reports that when she arrives at the trailer park in Copper Hill:
"The kids swarm me. The kids really love it and are excited. Even kids that don't get food deliveries come to get books. The kids are preschool to high school aged."
"One lady I deliver to doesn't have a car or a smart phone or internet, so she really enjoys getting the books."
We believe books are something to get excited about. I invite you to visit a library branch, or browse the great downloadables on this site, and find the stories that give you that "swarm the book lady" feeling.
We welcome your comments, suggestions and ideas. If I can be of assistance to you, please call me at 540-382-6969 ext. 216 or email me at kkhan@mfrl.org.