Director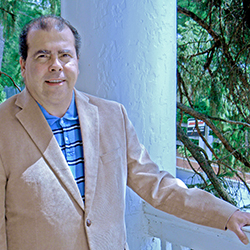 Karim Khan
Director of the Montgomery-Floyd Regional Library
Welcome to Montgomery-Floyd Regional Library. As individuals, families, and institutions in Montgomery and Floyd counties confront Coronavirus Disease 2019 (COVID-19) and its potential effects on our community, the library is working to find ways to inform, inspire, empower and connect the people we serve through the unprecedented and hazardous situation this disease presents.
There are many reliable and scientifically valid voices available through mass media and the Internet in this crisis; there are also many rumors and hunches. For all of us, the library strongly suggests that your first resources for information be the official government information sites at
Please refer to the MFRL's COVID-19 page for information on how library services are being affected by this emergency. The situation is changing, and we are committed to providing the most current information about library services to you. Also check our homepage at mfrl.org – the left side of that page features updates on our services, as well as on free services and resources that are being provided by some of our vendors, colleagues, and others.
We have generously received support to purchase additional e-books and e-audio from the Montgomery-Floyd Regional Library Foundation. Users of our Overdrive/Libby and RBDigital services can already see over 200 new titles purchased in the past week. We will continue to expand our e-resources for children, teens and adults during the current emergency.
The 2020 COVID-19 pandemic is something that we will all remember, and I hope that MFRL will be able to provide what we can to make it a little easier on everyone. Every day, the library staff is motivated by you. It is our honor to help you access the stories, tools, and connections that make our motto true – "One Stop – Unlimited Possibilities". It is different, and difficult, not seeing you, welcoming you to our facilities, and sharing the books. But you remain our motivation, and we are rooting for each of you in this crisis. We can't wait to see each of you again.
We welcome your comments, suggestions and ideas.
If I can be of assistance to you, please call me at 540-382-6969 ext. 216 or email me at kkhan@mfrl.org.