Director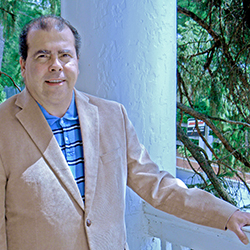 Karim Khan
Director of the Montgomery-Floyd Regional Library
Welcome to Montgomery-Floyd Regional Library. We are excited to reopen our libraries to public use as of April 8, 2021. Virginia Executive Order #72 and the current state of the COVID-19 emergency will allow for safe use of library facilities and resources in-person. For those still wishing to avoid public spaces, we will continue to offer Curbside Pickup, wireless printing through Princh, and Library Picks For You service. Some services will continue to be suspended due to state restrictions on gathering sizes, and limits of our ability to disinfect some smaller spaces within the library.
For the latest on the library system's efforts to meet the challenge of COVID-19, please visit our COVID Info Page.
The library staff and I can't wait to welcome each of you back. We have been working to improve our facilities, resources, and skills, and are forward to sharing with you new books, audiovisual items, electronic resources and other services. Library staff can assist you with finding library material, and with using our public computers and WiFi. We will show you how to use our Princh printing service to print from your own device to the library's printers wirelessly. We will share with you the new Libby and Overdrive Magazines collection, and demonstrate how to get the apps that let you enjoy our ebooks, eaudio, and emagazines anywhere you take your mobile device.
Every day, the library staff is motivated by you. It is our honor to help you access the stories, tools, and connections that will help us fulfill our vision statement – "People building skills and knowledge that enhance their lives, in a region prepared to prosper." The COVID-19 emergency continues, but so does our community. Montgomery-Floyd Regional Library is here for you as you continue along the unforeseen paths we are sharing this year. Thank you for your patience and all you do to help your neighbors in this ongoing emergency.
We welcome your comments, suggestions and ideas.
If I can be of assistance to you, please call me at 540-382-6969 ext. 216 or email me at kkhan@mfrl.org.
Sources for COVID-19 statistics:
Harvard Global Health Institute Key Metrics for COVID Supression.
Cambridge, MA: Harvard Global Health Institute, 2020.
Johns Hopkins University of Medicine Coronavirus Research Center John Hopkins U.S. Map.
Baltimore, MD: Johns Hopkins University of Medicine, 2020.
Virginia Department of Health Virginia Coronavirus Dashboard: COVID-19 in Virginia.
Richmond, VA: Virginia Department of Health, 2020.