Stay informed and entertained during the emergency
Coronavirus COVID-19 Information Updated 10/22
Our COVID-19 information page states the Library's response to the Coronavirus disease, details changes to circulation and operations, and lists sources of factual information regarding the pandemic.
Curbside Pickup
For persons needing to self-isolate, we continue to offer Curbside Pickup of holds, prints, and Library Picks For You service.
Covid-Era Resources
The Montgomery-Floyd Regional Library has put together a collection of resources covering everything from digital checkouts, non-library services, wifi-access, and more to help you stay informed and entertained.
Next 8 Events at the Library
Election Day


The Montgomery-Floyd Regional Library will be closed on Tuesday, November 3 for Election Day. The Blacksburg and Meadowbrook Branches will be open as polling locations only.

2020 Voter Information
Would you like to know how to vote now? Need to learn more before election day? MFRL staff have compiled Local Voter Information for the upcoming November 3rd election.

Reserve a Public Computer
Have a favorite computer?
You can reserve a specific PC, up to three days in advance.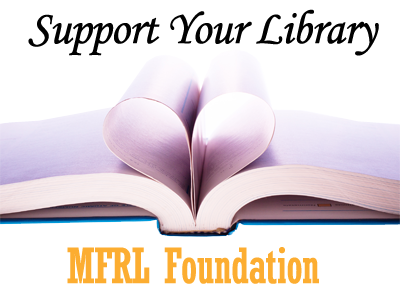 Love Your Library!
Visit our Foundation Page to see how you can support your library.
Library News eMails
Want your inbox to tell you what's going on at your library? Sign up for one (or more!) of our branch-specific Announcement Lists.
Notification Settings
You can now choose between Email, Phone, and TXT notifications for: Due Date Reminders, Overdue Notices, and Available Hold Notices. Visit our Notification page to set your preferences.
Bill Payments
Library Bills can be paid online. Visit our Bill Payment page for more information.
New Arrivals!
Check out the New Books and New Movies recently added to the library collection.