KIDS
Early Literacy
Support your child's development across the board by checking out some of our early literacy resources, kits, and programs! It's never too early to start reading and talking to your little one.
The 5 practices of early literacy to support your child's brain are read, write, talk, sing, and play!
Child Development Resources
CDC's Development Milestones: Skills such as taking a first step, smiling for the first time, and waving "bye bye" are called developmental milestones. Children reach milestones in how they play, learn, speak, act, and move. View milestone check lists, videos on development, and download the free milestone tracker app.
Kid's Heath for Parents: Keeping your child healthy is a big job! Read all about common childhood aches, pains, and illnesses, plus how to take care of your child's body from teeth to toes.
Reading Rockets | Launching Young Readers:  A national public media literacy initiative offering information and resources on how young kids learn to read, why so many struggle, and how caring adults can help.
Sesame Street in Communities: This free website provides hundreds of bilingual, multi-media tools to help kids and families enrich and expand their knowledge during the early years of birth through six, a critical window for brain development. Find tons of resources, activities, and videos on tough topics to help the kid's in your life process challenges they may be facing.
Vroom: This free app helps you do more with your shared moments. Add learning to mealtime, bathtime, bedtime, or anytime with 1,000+ fun, free activities.
Zero to Three: Resources that support parents in developing their own ways to promote their children's growth and development.
Early Literacy Begins with You
Kits
Our Literacy Kits contain several Books as well as Early Learning materials. Each kit explores a single theme or subject ranging from The Alphabet to The Weather.

Our Tough Subject kits contain several books on topics that can help children and caregivers through tough times. Each kit comes with books, resources, and a free comfort package for you to keep!

Check out the full list of kits in our online catalog.
Dial A Story
Dial 833-690-0646 to hear a story read in both English and Spanish.  Each Wednesday, a new story will be available. Dial-a-Story is made possible by the Library of Virginia, the U.S. Institute of Museum and Library Services and volunteer readers from around the state.
Day by Day Virginia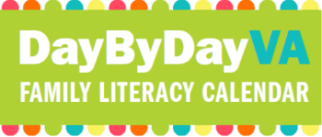 Storytime
| | |
| --- | --- |
| Winter Session | Spring Session |
| Summer Session | Fall Session |
Blacksburg
| | Monday | Tuesday | Wednesday | Thursday | Friday | Saturday |
| --- | --- | --- | --- | --- | --- | --- |
| 10:00 | | Toddlers 2-3 years | Toddlers 2-3 years | | | |
| 11:00 | | Tots 0-2 years | Preschool 4-5 years | | | All Ages |
Christiansburg
Monday
Tuesday
Wednesday
Thursday
Friday
Saturday
10:00
Tots
0-2 years
Toddlers 2-3 years
11:00
All Ages
Floyd
| | Monday | Tuesday | Wednesday | Thursday | Friday | Saturday |
| --- | --- | --- | --- | --- | --- | --- |
| 10:30 | | | All Ages | | | |
Meadowbrook
| | Monday | Tuesday | Wednesday | Thursday | Friday | Saturday |
| --- | --- | --- | --- | --- | --- | --- |
| 10:30 | | | | All Ages | | |