Stay informed and entertained during the emergency
Coronavirus COVID-19 Information Updated 08/24
Our COVID-19 information page states the Library's response to the Coronavirus disease, details changes to circulation and operations, and lists sources of factual information regarding the pandemic.
Curbside Pickup
For persons needing to self-isolate, we continue to offer Curbside Pickup of available holds and Library Picks For You items.
Register for a Library Card Online
Sign up for a library card Online 24/7 and immediately download ebooks, audiobooks, magazines, and more!
Search the Online Catalog
Apple users, getting errors when accessing our catalog? There's a compatibility issue with some versions of Apple iOS and our catalog, and we're working on a fix. In the meantime, we've found using Opera Touch browser instead of Safari works!
2021 Voter Information
Would you like to know how to vote now? Need to learn more before election day? MFRL staff have compiled Local Voter Information for the upcoming November 2nd election.

The Library is Hiring
Visit the Montgomery County Employment Opportunities page to apply.
Library Board of Trustees Vacancy
If you live in Montgomery County and would like to be a member of the Library Board, visit the Montgomery County Board & Commissions Vacancies page for more information and to apply.
Library News eMails
Want your inbox to tell you what's going on at your library? Sign up for one (or more!) of our branch-specific Announcement Lists.

Visit our YouTube channel
The Montgomery-Floyd Regional Library creates a variety of educational and entertaining videos. Visit our YouTube Channel (and subscribe for more.)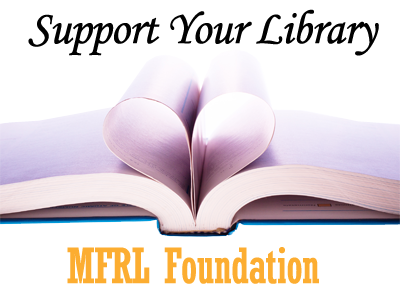 Love Your Library!
Visit our Foundation Page to see how you can support your library.
Notification Settings
You can now choose between Email, Phone, and TXT notifications for: Due Date Reminders, Overdue Notices, and Available Hold Notices. Visit our Notification page to set your preferences.
Bill Payments
Library Bills can be paid online. Visit our Bill Payment page for more information.
New Arrivals!
Check out the New Books and New Movies recently added to the library collection.